Carnival Homewares is dedicated to importing quality product, attentive to industry standards worldwide. We take seriously the safety and welfare of the skilled individuals who make our products by visiting their workplaces to ensure that our suppliers are upholding their promise of ethical practises.
A great portion of Carnival Homewares' product is Fair Trade, by purchasing any of our jute range you are supporting village women in Bangladesh seeking financial independence for themselves and their families.
In today's world of mass production, we appreciate the time and skill involved in producing a handmade item.
We are very proud to be featured in Mother's Day 2022 Guide by Fair Trade Association of Australia & New Zealand.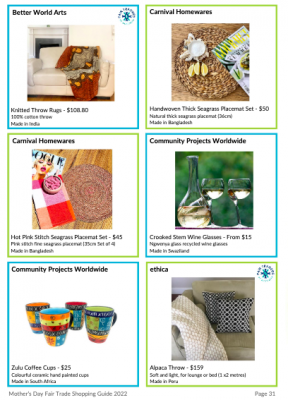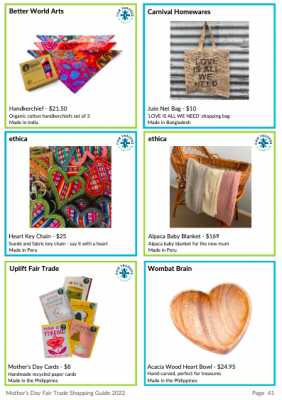 Mother's Day Fair Trade Shopping Guide for 2022 is full of beautiful gifts that support the sustainable development of families and communities in some of the world's most disadvantaged regions. Contemporary handcrafted fashion, accessories, homewares and gifts, brought to you by passionate Australian business members of the Fair Trade.
You can view the full guide here.
call on 03 9808 2222 email: info@carnivalhomewares.com.auBesA