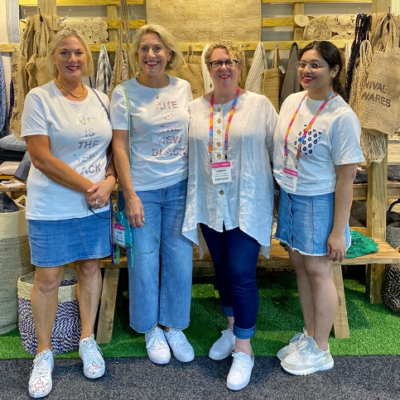 ABOUT US
Carnival Homewares was founded by sisters Penny and Anna in 2001 in the spirit of creativity and playfulness with design and interiors whilst living abroad in India and Indonesia. Inspired by travels and exotic destinations, Carnival Homewares finds inspiration in European and Asian design, however ultimately brings an entirely unique voice to Australia's homewares industry. Carnival Homewares is a fusion of sophisticated country warmth, coastal bohemian and stylish city living.
OUR CORPORATE RESPONSIBILITY
At Carnival Homewares we take our responsibilities as an Australian importing business very seriously. We inspect the workplaces of all of our suppliers, whilst also ensuring we endorse environmentally friendly and ethical production practises.
Our product range includes recycled plastics and cottons to lessen the environmental impact of production and consumption.
We also stock a wide range of fair trade products which supports communities of women in Bangladesh who are seeking financial independence and stability in the face of difficult personal circumstances. Our bestselling jute products are handwoven by these talented artisans into beautiful intricate patterns that are exclusive to Carnival Homewares.
We are proud to support a variety of local charities including Special Olympics and Koala Kids.
OUR DESIGNS
All of our designs are imagined and workshopped in our Melbourne studio by a team of creatively-minded individuals. We then have constant communication with our suppliers to ensure that these designs are refined and perfected as they are brought to life. We also commission emerging local artists to create unique graphics and prints for our textiles and tabletop range. This ensures our designs are completely original whilst supporting Melbourne's artistic community.